Green Papaya and Spicy Prawn Salad
Khanh Ong
2 birds eye chilli finely diced
2 cloves of garlic crushed
1 tbsp of lime juice
1 tbsp peanut oil
300g prawns peeled and deveined
1 medium green papaya shredded
1 tbsp palm sugar
2 shallots thinly sliced
1 long red chili
1 1⁄2 tbsp fish sauce
1 tbsp lime juice and zest of the lime
100g grape tomatoes
1⁄2 a packed cup of thai basil
1⁄2 a packed cup of coriander
1⁄2 a packed cup of mint
1 tbsp crushed roasted peanuts
2 tsp fried shallots
To Serve:
Combine birdseye chilli, garlic, lime juice, peanut oil and prawns.
In a hot pan cook the prawns until beautiful and orange about 2-3 minutes each side.
In a large mixing bowl add the papaya and prawns.
In a mortar and pestle pound palm sugar, shallots, long red chili until a rough paste forms, add fish sauce and lime.
Add in grape tomatoes and bruise them gentle.
Pour over the mixing bowl and add the herbs.
Toss well and top with peanuts and fried shallots.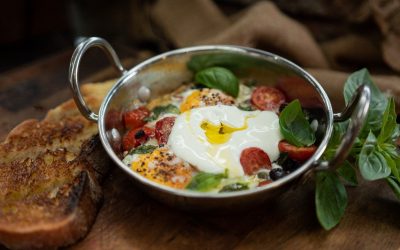 Ingredients: 9 cherry tomatoes, halved 1 small garlic clove, thinly sliced 2 tsp good-quality olive oil 1 tsp balsamic vinegar 5 basil leaves, torn, plus a few extra to serve if you like 5 pitted olives, sliced 2 large free-range egg 1 tsp small capers, rinsed salt...