Grilled Cos, Almonds Chilli and Orange
Tobie Puttock
Serves: 4
2 heads cos lettuce, cut in half lengthways
Extra virgin olive oil
Sea salt and cracked pepper
1/3 cup freshly squeezed orange juice
1/4 cup apple cider vinegar
Pinch of dried chili
2-3 cloves of garlic, peeled and finely minced
1/4 cup almonds, slightly crushed
Preheat an oven or grill plate to medium/ high.
Use a pastry brush (or fingers) to cover the surface of the lettuce with 2 tablespoons of olive oil and then season with salt and pepper.
Place the lettuce cut side down on the grill/ BBQ. Cook the lettuce for 2-3 minutes, flip and cook for a further two minutes.
While the cos is cooking, whisk together the orange dressing ingredients.
Serve the cos with the almonds and a drizzle of dressing.
Use a spatula to transfer the lettuce and the lemon to a serving plate and drizzle with remaining olive oil, a pinch of dried chili and the crushed almonds.
Our friends at Wine Selectors suggest pairing this dish with a Vermentino.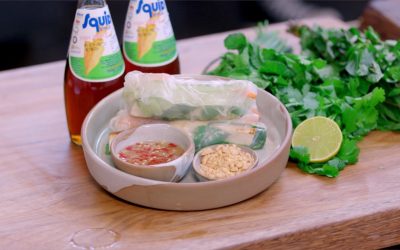 This recipe is brought to you by our friends at Asian InspirationsIngredients:Serves: 8 Prep Time: 10 mins Cook Time: 15 mins Main Ingredients: 1 packet rice paper 150g rice vermicelli noodles 1 bunch coriander 1 bunch Thai basil 1 bunch mint 1 bunch garlic chives 1⁄4...