Grilled Octopus, Burnt Aubergine and Harissa
Mike Reid
Recipe brought to you with the help of our friends at Supreme Caravans
80g Octopus
50g Burnt Aubergine
10ml Nduja glaze
1 Thick slice white sourdough toast
10g butter, salted
Octopus:
300g Octopus, cleaned
2 limes, zested and sliced
2 Birdseye chilli, cut in half
3 garlic cloves, sliced
2 bay leaves
1 kaffir lime leaf
20g ginger
50g Spanish onion, sliced
50ml Early harvest olive oil
Sea Salt
Nduja Glaze:
100g Nduja paste
30g dark soft brown sugar
20ml rice vinegar
Burnt Aubergine:
1 Aubergine (Egg plant)
1tsp cumin
½ tsp smoked paprika
½ lime juiced
75ml Olive oil
Salt
Octopus:
Add all ingredients except for the octopus into a pot of water and bring to the boil. Once boiling add your octopus bring back to the boil and then reduce to a simmer
Cook until tender, it should take about 25 to 30 minutes. Once cooked take out a chill until needed
Nduja Glaze:
Over a medium heat reduce down all the ingredients. You are looking for the consistency of a maple syrup for your glaze
Burnt Aubergine:
Cut your eggplants in half lengthways before scoring the flesh of your eggplant with your knife lightly. Then rub in the olive oil and spices and season generously with salt
Grill over fire, start of first on the flesh side and cook for about 5 minutes before turning it over and cooking the rest of the way on the skin side for a further 20 minutes over a medium heat
To Serve:
To finish toast your bread butter it generously and top with your eggplant, octopus and glaze
Our friends at Wine Selectors suggest pairing this dish with a Vermentino.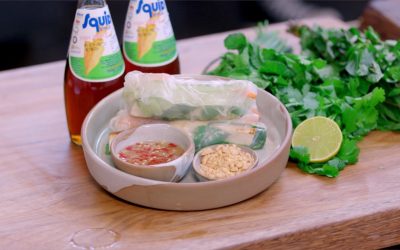 This recipe is brought to you by our friends at Asian InspirationsIngredients:Serves: 8 Prep Time: 10 mins Cook Time: 15 mins Main Ingredients: 1 packet rice paper 150g rice vermicelli noodles 1 bunch coriander 1 bunch Thai basil 1 bunch mint 1 bunch garlic chives 1⁄4...