Grilled Peaches with Yoghurt
Elena Duggan
500g Yoghurt, Greek, natural or biodynamic
4 Freestone peaches, pitted and cut in halves (could use bananas, pears or persimmons)
½ bunch Thyme
100g Honey
25g Balsamic vinegar
50g Slivered almonds
In a medium sized fry pan or griddle pan over a medium heat, place peaches flesh side down along with a thyme sprigs scatter over and under peaches.
Cook peaches until grill marks are visible and flesh is starting to collapse.
Deglaze with balsamic vinegar and gently flip peaches over to skin side down.
Drizzle over honey until just softened and increased viscosity.
In four small bowls, place equal dollops of yoghurt.
Portion and pile peaches on top of each yoghurt portion, drizzle over saucy liquid from pan, then scatter almonds over and serve.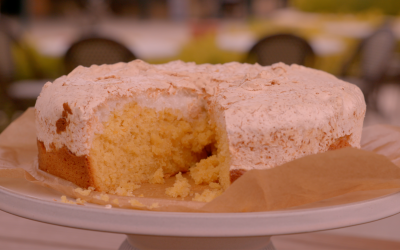 Ingredients:BASE 3 Egg Yolks 1/2 cup Caster Sugar 125g soft butter 2 cups Self-Raising flour 1 cup orange juice Vanilla   TOPPING 3 egg whites 1/2 cup caster sugar 1 cup desiccated coconut Method: Beat butter and sugar until creamy. Add yolks and vanilla. Fold in the...