Grilled Stone Fruit
Alastair McLeod
600g assorted stone fruit*
Extra virgin olive oil
1 lemon
1 vanilla bean
300g thick Greek yoghurt
2 tbsp floral honey
50g salted macadamia, coarsely chopped
Cut and drizzle fruit with olive oil and grill, cut sides down, until juicy and charred, carefully remove from BBQ, spritz with lemon and allow to cool to room temperature.
Meanwhile split the vanilla bean and scrape the seeds into the yoghurt and stir to combine.
To serve, spread yoghurt on a platter or plates and arrange fruit on top. Drizzle with honey and strew with nuts.
Our friends at Wine Selectors suggest pairing this dish with a Viognier.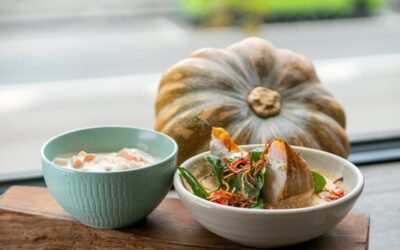 Ingredients: Serves: 2 Ingredients: 2x Wedges of Pumpkin (skin on) 1x can of coconut milk 30ml Soy Sauce (to taste) 1 tbsp of Tom Yum Paste 1 chilli, finely sliced 1 punch of Thai basil 1 tbsp fried shallots Bubur Cha Cha: Kara coconut cream 2litres Pandan leaves 6pcs...