Grilled Stone Fruit
Alastair McLeod
600g assorted stone fruit*
Extra virgin olive oil
1 lemon
1 vanilla bean
300g thick Greek yoghurt
2 tbsp floral honey
50g salted macadamia, coarsely chopped
Cut and drizzle fruit with olive oil and grill, cut sides down, until juicy and charred, carefully remove from BBQ, spritz with lemon and allow to cool to room temperature.
Meanwhile split the vanilla bean and scrape the seeds into the yoghurt and stir to combine.
To serve, spread yoghurt on a platter or plates and arrange fruit on top. Drizzle with honey and strew with nuts.
Our friends at Wine Selectors suggest pairing this dish with a Viognier.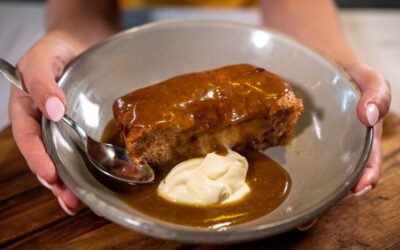 Ingredients: 185 g dates 1 cup water 60g butter 2 eggs 185g self raising flour 185g sugar 1tsp baking powder ½ tsp vanilla paste Butterscotch Sauce: 1 cup cream ¾ cup brown sugar 2 tbsp butter Pinch of salt Method: Bring the dates and water to a boil, then remove from...