Grilled Stuffed Squid
Khanh Ong
1⁄4 cup of wood ear mushrooms soaked and finely sliced
1 tbsp finely shallots
1 spring onion finely chopped
120g minced pork
1⁄2 tsp Massel Chicken stock powder
1⁄4 tsp sugar
1⁄2 tsp white pepper
a pinch of salt
50g of thin glass noodles rehydrated finely chopped
300g squid tubes ( big enough to stuff)
To Serve:
Butter lettuce
Coriander vietnamese mint
Mint
Roasted peanuts
Fried shallots
Mix all the ingredients well except the squid.
Stuff the inside of the squid with the mixture
Place over charcoal grill for 3-4 minutes either side
lice and serve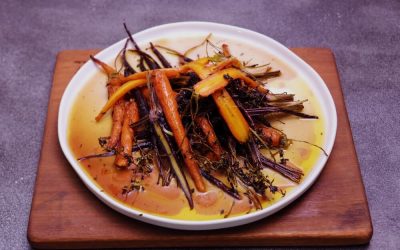 Join Elena Duggan as she creates her Honey Herbed Carrots recipe. Tune in to The Market kitchen each weekday on Channel 10.