Grilled Stuffed Squid
Khanh Ong
1⁄4 cup of wood ear mushrooms soaked and finely sliced
1 tbsp finely shallots
1 spring onion finely chopped
120g minced pork
1⁄2 tsp Massel Chicken stock powder
1⁄4 tsp sugar
1⁄2 tsp white pepper
a pinch of salt
50g of thin glass noodles rehydrated finely chopped
300g squid tubes ( big enough to stuff)
To Serve:
Butter lettuce
Coriander vietnamese mint
Mint
Roasted peanuts
Fried shallots
Mix all the ingredients well except the squid.
Stuff the inside of the squid with the mixture
Place over charcoal grill for 3-4 minutes either side
lice and serve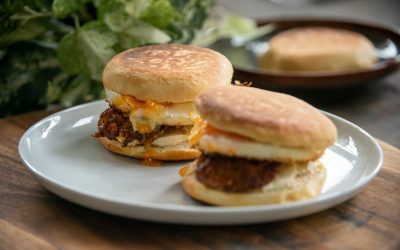 Ingredients: 300ml milk, plus extra 7g sachet of dried yeast 25g white caster sugar 50g shortening or lard 425g plain flour, plus extra 20g polenta, optional Unsalted butter Method: Gently warm the milk in a pan until lukewarm or body temperature, 37ºC. Add the yeast...