Guacamole and Lime Chilli Chips
Elena Duggan
4lge Avocados, ripe
3 limes, juice and zest of one½ white onion, finely diced
1 bunch Coriander, leave sonly, finely chopped
¼ Jalapeño, deseeded and finely diced – optional
1 tomato, deseeded, finely diced – optional
Salt to taste
White pepper, to taste
Chips
Lime and Chili Simpson's Pantry wraps
100g Manchego (or Cotija or Parmesan) cheese, finely grated
Spray olive oil
Preheat oven to 180° Celsius, fan forced.\
Cut the wraps into wedges/ triangles, and place on lined baking trays.
Spray wrap wedges with oil and sprinkle cheese evenly all over.
Bake for approx. 10 minutes, or until cheese has started to brown. Remove from oven and allow them to crisp at room temperature.
Whilst the chips are cooking, prepare the guacamole. In a bowl, mash avocados to a medium texture, then mix all other ingredients through. Adjust seasoning to taste.
Serve with chips.
Refined Sugar Free
Dairy Free
BulletProof Friendly
Vegetarian
Pescatarian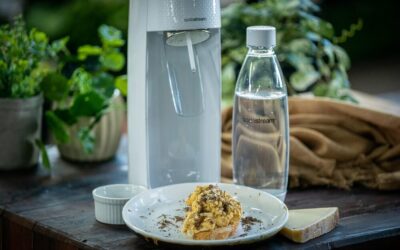 Ingredients: Serves 4 12 eggs, best quality you can afford 150ml sparkling water 2 tablespoons freshly grated parmesan Sea salt and freshly cracked pepper 20g butter 4 thick slices of sourdough, toasted/charred Method: Mix together the eggs, sparkling water, parmesan...