Honey Chicken & Witlof Tray Bake
Khanh Ong
3 small witlof halved
4 chicken drumsticks
1 tbsp EVOO
salt to season
1 large onion cut it wedges
1 bulb of garlic
4 fresh bay leaves
30ml honey
1 tbsp apple cider vinegar
Pour boiling water over the witlof and step for 2 minutes then set aside.
Cover drumsticks with half the EVOO and season with salt.
In an oven safe roasting pan over high heat cook the chicken for 3-5 minutes on each side until chicken is brown.
Add witlof to the pan with the chicken along with the onions, garlic, bay leaves and cover with remaining EVOO Microwave and mix honey and vinegar then pour over the tray.
Place the chicken in an oven at 180C for 30 mins remembering to bast 2 times though out cooking time.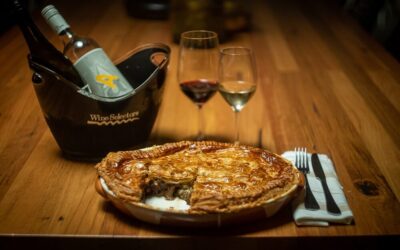 Ingredients: 1kg of chuck, flank, shin or brisket trimmed and cut into 3cm cubes 2 clove of garlic 1 small bunch of thyme 1 tspn of black peppercorns 500ml Guinness or dark ale 8 shallots peeled 1 tbsp vegemite 500gm bought puff pastry 100gm Stilton blue cheese or...