Hot Potato Salad
Mike Reid
Recipe brought to you with the help of our friends at Velisha Farms
400g Jersey Potatoes, roughly chopped (or ratte potatoes)
1 Thyme Sprig
100ml Vegetable Oil
Finely Chopped Fresh Parsley
4 Thinly Sliced Spring Onions
100g Bacon, streaky
1 ½ tsp Smoked Paprika
1 Red Chilli, long deseeded and finely chopped
200ml Yoghurt
1 Lemon, juiced
1 tbsp Tahini
Bring a pot of water with the sprig of thyme to the boil before adding chopped potatoes to it. Cook them until tender and then drain and cool them down slightly.
Preheat your oven to 200 degrees/Gas Mark 5. Place your oven tray in the oven to preheat the tray and get it nice and hot, add the vegetable oil to the tray to heat up as well. Add potatoes to the tray and roast for about 45 minutes to an hour depending on your oven, you want them looking nice and crispy all over.
Whilst potatoes are cooking, toast off in a dry pan on a medium heat the smoked paprika for 2 minutes before combining it with the yoghurt and lemon juice together, set aside until needed.
Sautee your chopped bacon in the same pan over a medium heat adding no extra oil, you want to render down the fat and get a crisp on it. Set aside again
Once your potatoes are ready, add chilli, bacon and parsley and season with salt to taste. Get a large serving bowl and add your yoghurt dressing first, then your hot potato salad mix. Top it with the finely chopped spring onions.
Our friends at Wine Selectors suggest pairing this dish with a Albarino.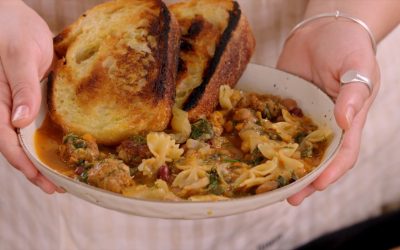 Ingredients: 4 Spicy Italian Sausages Packet of Farfalle Pasta 1 Leek 1 Carrot 1 Onion 2 Garlic 2 cups Shredded Cabbage 1 Chopped Silver Beet 1 400gm Tinned Beans 1 tsp Cumin powder 1 tsp Coriander  powder 1tsp Paprika powder 2 tbsp Tomato Paste Stock of your choice...