Hummingbird Cake
Simone Austin
3 cups plain flour
2 cups sugar
6 Scoops Ensure Vanilla Powder
3 eggs
 1 ½ cups light extra virgin olive oil
1 x 250g can crushed pineapple
2 cups ripe chopped banana
Preheat an oven to 180 degrees Celsius.
Grease a 20cm round baking tin
Combine dry ingredients in a large mixing bowl, including the Ensure powder
Add the eggs and oil and stir in well until all ingredients are combined, but do not beat
Stir in the pineapple and bananas.
Pour into the tin and cook for 45minutes or until a skewer comes out fairly clean. It will be a moist cake. Cool a little before tipping out to cool on a wire rack. This also tastes delicious with a cream cheese icing.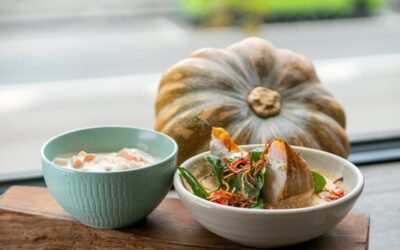 Ingredients: Serves: 2 Ingredients: 2x Wedges of Pumpkin (skin on) 1x can of coconut milk 30ml Soy Sauce (to taste) 1 tbsp of Tom Yum Paste 1 chilli, finely sliced 1 punch of Thai basil 1 tbsp fried shallots Bubur Cha Cha: Kara coconut cream 2litres Pandan leaves 6pcs...