Iceburg Lettice with Burnet Dressing
Ben O'Donoghue
1x iceberg lettuce
50g Parmesan cheese
1 lemon 
1 tbsp chopped dill, finely chopped
1 tbsp chopped chives, finely chopped
1 tbsp chopped tarragon 
1x onion, finely diced
1 tbsp honey
1 tbsp mustard
2 tbsp white wine vinegar
½ cup of olive oil
½ cup sour cream
½ cup buttermilk
Fry off the onion until browned and set aside to cool.
Combine honey, mustard, vinegar in a bowl and slowly whisk in oil to emulsify. Season with salt and pepper. 
In another bowl combine buttermilk and sour cream and season with salt. Slowly add honey mustard mixture to buttermilk, then add juice of half a lemon. Add onions to dressing and set aside in the fridge.
Pull apart pieces or cut iceberg lettuce into wedges. Squeeze other half of lemon over top
Arrange on your plate and dress well with your burnet onion dressing. Finely grate Parmesan cheese over each and sprinkle with the chopped herbs.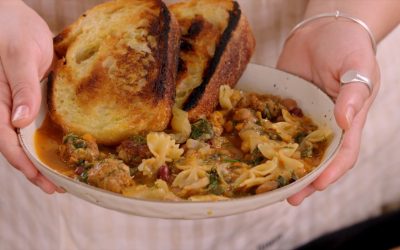 Ingredients: 4 Spicy Italian Sausages Packet of Farfalle Pasta 1 Leek 1 Carrot 1 Onion 2 Garlic 2 cups Shredded Cabbage 1 Chopped Silver Beet 1 400gm Tinned Beans 1 tsp Cumin powder 1 tsp Coriander  powder 1tsp Paprika powder 2 tbsp Tomato Paste Stock of your choice...