Indian Spice-Crusted Fish
Ben O'Donoghue
Serve 4
4 thick King salmon or Atlantic salmon
Vegetable oil
Lime wedges
Marinade
2 pinches of salt
2 teaspoons chilli powder
juice of 1 lime
1 teaspoon sugar
2 teaspoons garlic paste
2 teaspoons ginger paste
Crust
180g white split peas (urad dal)
1 tablespoon yellow split peas (chana dal)
1 teaspoon fennel seeds
½ teaspoon cumin
1 teaspoon black peppercorns
½ teaspoon chilli flakes
20 freshly dried curry leaves
2 tablespoons chopped
coriander leaves
Place all the marinade ingredients in a food processor and purée.
Rub the fish fillets with the marinade.
Toast the crust ingredients, except the curry leaves and coriander, in a pan until the split peas turn golden and the spices release their aromas. Leave to cool, then pound in a mortar until you have a fine crumb. Crumble in the curry leaves and chopped coriander.
Roll the fish in the crust mixture.
Prepare your barbecue for direct grilling over a medium–high heat.
Add vegetable oil and cook the fish for 4–5 minutes on one side,
then turn and cook for 3–4 minutes on the other.
Serve with lime wedges.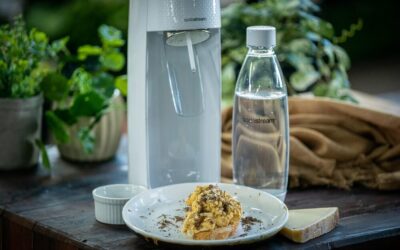 Ingredients: Serves 4 12 eggs, best quality you can afford 150ml sparkling water 2 tablespoons freshly grated parmesan Sea salt and freshly cracked pepper 20g butter 4 thick slices of sourdough, toasted/charred Method: Mix together the eggs, sparkling water, parmesan...