Indonesian Vegetarian Skewers
Karen Chan
2 small eggplants, cut to thick slices
1 zucchini, cut to thick slices
10 bamboo skewers, soaked in cold water for 1 hr
1 tbsp Peanut Oil for brushing
1tbsp Crushed peanuts, for garnish (optional)
Marinade
5 tbsp ABC Sweet Soy Sauce Kecap Manis
1 tsp garlic powder
2 tsp Lee Kum Kee Premium Soy Sauce
2 tsp sugar
2 tbsp Jeeny's Tamarind Puree
Dipping Sauce
5 tbsp ABC Sweet Soy Sauce Kecap Manis
½ tbsp ABC Original Chilli Sauce, or to taste
1 shallot, finely minced
½ tsp salt
1 tbsp finely crushed peanuts
2 tbsp toasted sesame seeds, ground
Juice of 1 lime
Mix all marinade ingredients in a large bowl. Add eggplant and zucchini, marinate for 1 hr.
Mix dipping sauce ingredients in another bowl. Set aside.
Thread the vegetables onto skewers until all vegetables have been used.
Brush some oil on a hot griddle pan or barbeque, cook the skewers, basting occasionally.
Serve with dipping sauce and some crushed peanuts.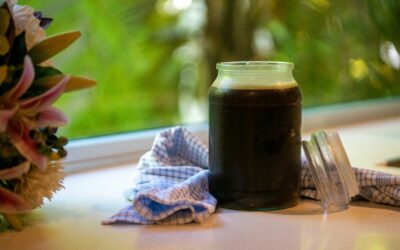 Ingredients: 2 cup caster sugar 2 cups soy sauce 1 cup shao-hsing wine 3L water 2 inch piece ginger 8 cloves garlic 6 spring onions, 5cm batons 8 star anise 8 coriander seeds 4 cinnamon quills 4 cloves 2 pork trotters Method: Place an even layer of sugar in a large...