Jam Sandwich
Ben O'Donoghue
1 round of white sliced bread per doughnut sandwich
1 tablespoon or as required Strawberry jam
1 tablespoon or as required Nutella spread
Butter as required
500mls vegetable oil
1 cup caster sugar
1 teaspoon of cinnamon powder
Batter
1 cup Self raising flour
¼ cup of butter milk or milk
soda water
Make the batter by placing the flour into a bowl and whisk in the buttermilk if using (the butter milk gives a better flavor and lightness) then whisk in enough cold soda water to make a batter the consistency of pouring cream.
Preheat the veg oil in a large fry pan or wok.
Make the sandwiches by removing the crust off the white sliced bread. Butter one side of the bread then add your filling either jam or Nutella.
At this stage you can either cut the sandos into triangles or leave whole and cut after cooking either way it works. The triangles may help if the wok or pan is smaller.
Test the heat of the oil by dropping one of the crusts in and if it bubbles and sizzles it ready.
Dredge the sandos into the batter to coat well and carefully place into the hot oil and cook until golden on either side. Remove from the hot oil and drain well then place into a tray with the cinnamon sugar and toss well.
Serve while hot with ice cream.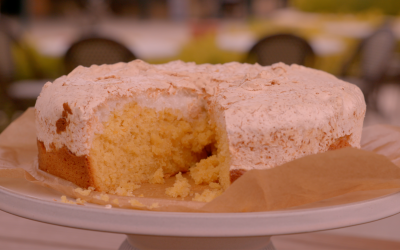 Ingredients:BASE 3 Egg Yolks 1/2 cup Caster Sugar 125g soft butter 2 cups Self-Raising flour 1 cup orange juice Vanilla   TOPPING 3 egg whites 1/2 cup caster sugar 1 cup desiccated coconut Method: Beat butter and sugar until creamy. Add yolks and vanilla. Fold in the...