Japanese Inspired Beef Tartare
Mimi Baines
300 gm piece of eye fillet, good quality
2tbsp peanut oil
2 french shallots
10 x baby cornichons
2 tbsp Rice wine vinegar
2 tbsp Palm sugar
2 tbsp Tamari soy sauce
2 x cloves Garlic
Ginger, 5cm piece
1 x bunch coriander
White sesame seeds
Black sesame seeds
Lime, to serve
5 x rice paper sheets
2L sunflower oil (for frying)
Nori Salt
2 x nori sheets, toasted
Sea Salt flakes
Finely dice beef, then place into a bowl and set aside in the fridge. Then finely dice French shallot and cornichons – set aside in a small bowl.
Mix rice wine vinegar, ½ tbs palm sugar finely grated, mirin, fish sauce, soy sauce, crushed garlic and grated ginger.
To make nori salt, pulse toasted nori in a nutribullet/blender then mix with sea salt flakes.
To make rice paper, heat oil to about 180C in a shallow frypan, place 1 rice paper sheet in at a time, and cook until puffed, remove and drain oil – sprinkle with nori salt.
Combine cornichons and shallots with beef, add in finely sliced coriander stems. Drizzle the beef with dressing, combining well. Serve with fried rice paper crackers, sprinkle with sesame seeds and leftover nori salt.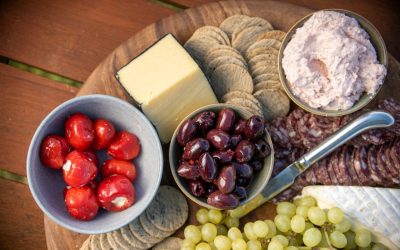 Ingredients: Hard Cheese Soft Cheese Blue Cheese 1 baguette  A bunch of Green Grapes Honeycomb Salami (sliced) Smoked Salmon Dip Artisan Crackers Beetroot dip Poppy Seed Skordalia Dip Dukkah Stuffed Bell Peppers Marinated Olives (pitted) Method: There are no rules or...