Japanese Mild Curry
Chef Masa
Recipe brought to you by our friends at Asian Inspirations
Serves: 2 people
250g Chicken thigh fillet
250g Brown onions (sliced)
120g Carrots (2cm diced)
250g Potato (2cm diced)
100g Mushroom
120g Broccoli (cut into bite size pieces)
800ml Water
1 pack S&B Mild Curry (92g)
Heat pot, add small amount (approx 30ml) of vegetable oil and saute onions until it becomes sweet.
Add chicken and mushroom and further cook until the chicken is almost fully cooked.
Add carrots, potatoes, and water. Cook until the root vegetables are cooked through.
Add broccoli and further cook until the broccoli becomes bright green and cooked to your liking.
Add curry roux and stir until the roux is diluted well with the mixture.
Serve on hot white rice.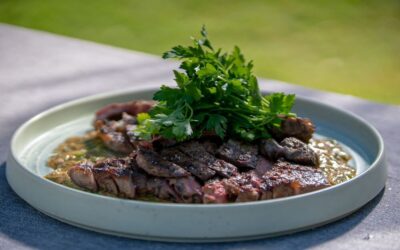 Ingredients: Serves: 2-4 2 x 250g T-bone or Rump steak Sea salt 2 Tbsp Olive oil 2 Tbsp Butter 1 brown onion, diced 2-3 cloves garlic, finely chopped 1 tsp dried chilli flakes 2 tsp dried mixed herbs 40 'twists' cracked black pepper 2 chicken stock cubes, crumbled 2-3...