Japanese Miso Caramel Salmon
Chef Mark
Recipe brought to you with the help of our friends at Asian Inspirations
Salmon:
200g Fresh Australian salmon, skin on, pin bones removed
50ml Vegetable oil
Miso Glaze:
50g White miso paste
50ml Obento Mirin Seasoning
50g Sugar
Togarashi Crackers:
1 each Flat pita bread
5ml Yeo's Pure Sesame Oil
20ml Olive oil
5gm Togarashi seasoning
Pinch Salt flakes
Sesame Dressing with Yuzu and Wakame:
100ml Kewpie Japanese Dressing Roasted Sesame
50g Dried wakame
50ml Kochi Yuzu juice
Seared Avocado:
1 each Ripe avocado (seared with gas blow torch)
Garnish:
50ml Kewpie Yuzu flavour mayonnaise
Miso Glaze:
Combine miso paste, mirin and sugar into a stainless-steel based pot. Heat on a medium heat until sugar is dissolved. Set aside to keep warm. Heat a seasoned wok or non-stick pan over high heat.
Togarashi Crackers:
Mix sesame and olive oil together. Split pita bread and drizzle with oil mix, sprinkle with togarashi and sea salt. Bake crackers in a pre-heated oven at 180c for 3-4 minutes until crisp.
Sesame Dressing with Yuzu and Wakame:
Soak wakame in hot water until softened, combine softened wakame with sesame dressing and yuzu juice. Mix well
Salmon:
Slice salmon lengthways to approximately 2-3cm thickness. Heat pan, brush salmon vegetable oil, season with salt and pan fry until golden brown. Remove salmon from pan and add to prepared miso caramel.
Seared Avocado:
Cut avocado into quarters, sear the outside flesh of the avocado with the blow torch until sear and black.
To Serve:
Place a generous amount of sesame dressing in a serving bowl, add salmon and dollops of kewpie wasabi. Garnish with shards of togarashi crackers.
Our friends at Wine Selectors suggest pairing this dish with a Pinot Noir.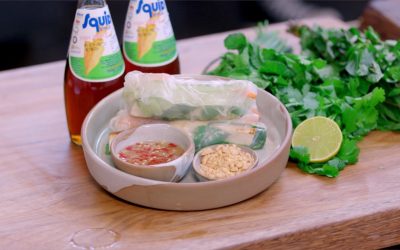 This recipe is brought to you by our friends at Asian InspirationsIngredients:Serves: 8 Prep Time: 10 mins Cook Time: 15 mins Main Ingredients: 1 packet rice paper 150g rice vermicelli noodles 1 bunch coriander 1 bunch Thai basil 1 bunch mint 1 bunch garlic chives 1⁄4...