Jerk Chicken Wings with Slaw
Mike Reid
Chicken Wings
500g Chicken wings
1 tsp sea salt flakes
1 tsp freshly ground black pepper
1 tsp allspice
1 tsp dried thyme
1 tsp garlic powder
1 tsp dried red chilli flakes
250g jerk barbecue sauce
25ml white rum
Coleslaw
1/3 white cabbage, thinly sliced
1/3 red cabbage, thinly sliced
1 spring onion, thinly sliced
1 carrot, grated
1 tsp sea salt flakes
1 tsp freshly ground black pepper
1 tbsp runny honey
4 tbsp mayonnaise
To make the wings, season the chicken with the salt, pepper, allspice, thyme, garlic powder and chilli flakes in a large bowl, rubbing to cover the meat completely. Pour over the jerk sauce and white rum and mix together. Cover and leave to marinate in the fridge for at least 1 hour.
Preheat the oven to 200C. Put the wings in a roasting tin and roast for 45 minutes, or until cooked through.
Coleslaw
For the slaw, toss all the vegetables together then top with honey and mayonnaise. Season to your liking and sit aside until wings are ready and serve.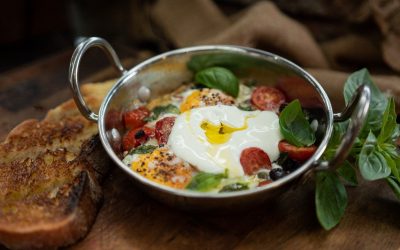 Ingredients: 9 cherry tomatoes, halved 1 small garlic clove, thinly sliced 2 tsp good-quality olive oil 1 tsp balsamic vinegar 5 basil leaves, torn, plus a few extra to serve if you like 5 pitted olives, sliced 2 large free-range egg 1 tsp small capers, rinsed salt...