Juicy Fried Pork Belly
Chef Kinsan
Recipe brought to you with the help of our friends at Asian Inspirations
Serves: 2
16 pieces pork belly (skin off; diced into 2.5cm cubes)
1L oil for frying; add more if needed
Corn flour enough to lightly coat pork pieces
Sauce:
5 tbsp (100ml) Murasaki Soy Sauce
4 tbsp sugar
21⁄2 tbsp (50ml) Obento Cooking Sake
3⁄4 cup (200ml) water
20g ginger (sliced)
To Serve:
Kewpie Wasabi Mayonnaise
Murasaki Soy Sauce
To Cook
Combine marinade ingredients into a pot. Add pork and cook and bring to boil. Reduce heat to

medium and cook for 20 mins or until cooked through.

Preheat oil to 180 – 200°C. Coat pork with corn flour and cook for 5 mins until crispy.

3. Drain excess oil, and serve with wasabi mayonnaise in Japanese soy sauce. You can also skewer

the pork for better presentation.
Our friends at Wine Selectors suggest pairing this dish with a Riesling.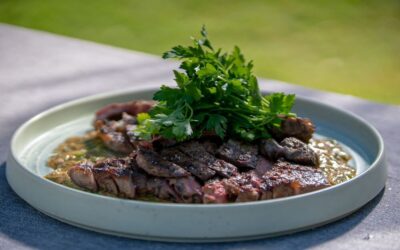 Ingredients: Serves: 2-4 2 x 250g T-bone or Rump steak Sea salt 2 Tbsp Olive oil 2 Tbsp Butter 1 brown onion, diced 2-3 cloves garlic, finely chopped 1 tsp dried chilli flakes 2 tsp dried mixed herbs 40 'twists' cracked black pepper 2 chicken stock cubes, crumbled 2-3...