Kale Caesar Salad
Elena Duggan
2 Lemons, juice only
8lge Anchovy fillets in oil
1clove Garlic
6 Black peppercorns
25g Dijon mustard
100g EVOO
100g Parmesan cheese, ½ finely grated, ½ shaved
500g Kale/ Tuscan or other, stems removed and roughly shredded
4 soft-boiled eggs, quartered
4 x 100g Salmon fillets
Salt to season
In a high-speed blender (or mortar and pestle), process lemon juice, anchovy fillets, garlic, pepper, Dijon and grated Parmesan.
Once smooth, and whilst on medium speed, slowly drizzle in EVOO until dressing is creamy and well combined. Set aside.
In a cold, medium sized non-stick fry pan, place salted salmon fillets skin side down. Turn heat on and bring up to medium. When salmon is opaque approximately one-third the way up the height of the fillet, turn over and cook flesh side down for up to 2 minutes or desired rareness is achieved, put aside.
In a large bowl, give kale a gentle massage to soften the texture, making it more palatable.
Toss dressing through kale and present on a platter, scatter eggs and shaved parmesan then place salmon fillets crispy skin side up.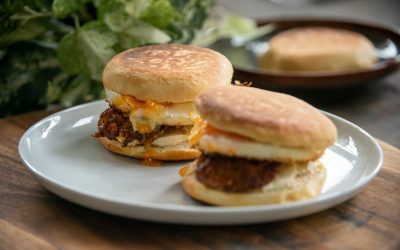 Ingredients: 300ml milk, plus extra 7g sachet of dried yeast 25g white caster sugar 50g shortening or lard 425g plain flour, plus extra 20g polenta, optional Unsalted butter Method: Gently warm the milk in a pan until lukewarm or body temperature, 37ºC. Add the yeast...