2 bunches Tuscan Kale/ Cavolo Nero, stems removed, roughly shredded
1 Lemon, juice and zest – additional for dressing if desired
1 Pomegranate, jewels only
4-5 Radishes, finely shaved/ sliced
150g Slivered almonds, raw or lightly toasted as you please
150g-200g Cheddar cheese, aged or your favourite, 1cm cubes
50-75g best EVOO
Pepper to taste
Salt to taste
In a large bowl, massage and scrunch the kale in the lemon juice until the colour becomes vibrant and the texture is softened.
Add the apples and ensure lemon juice has come into contact with the apple to prevent oxidation.
Add almonds, cheese, radishes, and pomegranate and toss through.
Right before serving, dress with oil and season to taste.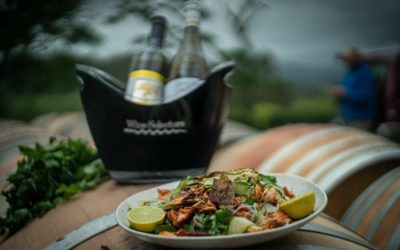 Ingredients: 100g glass noodles (bean thread vermicelli) 2 Lebanese cucumbers, thinly sliced using a vegetable peeler 4 spring onions, thinly sliced on diagonal 2 eschalots, thinly sliced 1 cup coriander sprigs 1 cup flat-leaf parsley sprigs 1-2 small red chillies,...