Kerala Fish Curry
Ben O'Donoghue
1 tablespoon sunflower oil
2 large onions, thinly sliced
1 teaspoon thinly sliced ginger
2 garlic cloves, thinly sliced
2 1/2 tablespoons red chilli powder
1/4 teaspoon ground turmeric
Salt
Freshly ground black pepper
2 tablespoons tamarind paste
2 cups Basic chicken stock
4 x 200g thick portions Ling or other reef fish
1 tablespoon crispy fried shallots, to serve
1 tablespoon crispy fried garlic, to serve
springs coriander, to garnish
TEMPERING
1 tablespoon sunflower oil
1/4 teaspoon fenugreek seeds
1/2 teaspoon mustard seeds
handful fresh curry leaves
Heat the sunflower oil in a saucepan over medium heat. Fry the onion until translucent, then add the ginger and garlic and sauté until soft.
Combine the chilli powder and turmeric with a few drops of water to make a paste. Add to the pan and fry over low heat until the oil separates. Season with salt and pepper, then add the tamarind paste and stock. Bring the sauce to a boil, then simmer to reduce by a quarter. Keep warm.
Steam the fish fillets in a steamer over medium–high heat until the flesh just starts to give and flake under the pressure of your finger. At this point it will be just cooked. Turn off the steamer and allow the fish to rest while you prepare the tempering.
To make the tempering, heat the sunflower oil in a small frying pan over medium heat. Add the fenugreek seeds and fry until fragrant. Add the mustard seeds, and when they start to splutter, add the curry leaves and fry until crisp.
To serve, pour the sauce over the fish, followed by the tempering mixture. Sprinkle with the crispy fried shallots and garlic, and garnish with coriander sprigs.
Our friends at Wine Selectors suggest pairing this dish with a The Octogenarian by Woodstock Grenache 2016 or Hancock & Hancock Home Vineyard Fiano 2018
For chef quality results, we recommend using Anolon cookware!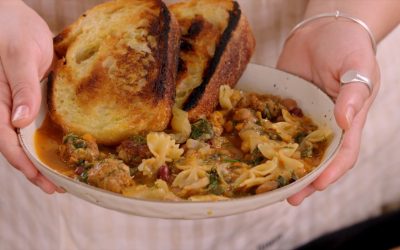 Ingredients: 4 Spicy Italian Sausages Packet of Farfalle Pasta 1 Leek 1 Carrot 1 Onion 2 Garlic 2 cups Shredded Cabbage 1 Chopped Silver Beet 1 400gm Tinned Beans 1 tsp Cumin powder 1 tsp Coriander  powder 1tsp Paprika powder 2 tbsp Tomato Paste Stock of your choice...