Kerala Salmon Curry
Karen Chan
Serves: 2
200g Safcol Salmon in Springwater
1 tbsp oil
Seed mix
¼ tsp mustard seeds
¼ tsp fenugreek seeds
¼ tsp cumin seeds
2 stalks curry leaves
1 tsp minced garlic
2 tsp minced ginger
1 green chili, split lengthwise
2 tbsp of your favourite curry powder mixed with 1/4 cup water
1 tbsp tomato paste
Juice of half lime
¼ cup coconut milk
Salt to taste
Fresh coriander for garnish
Naan bread for serving
In a hot pan on medium heat, add the oil and seeds. When the mustard seeds start to pop, lower the heat and add curry leaves, garlic and ginger. Fry until fragrant.
Add the chili, curry paste and tomato paste and cook for 2 minutes.
Add in salmon and springwater, lime juice and coconut milk and bring to a boil. Season to taste.
Garnish with coriander leaves and serve with naan bread for a light meal or as a complementary dish at a main meal.
Our friends at Wine Selectors suggest pairing this dish with a Rose.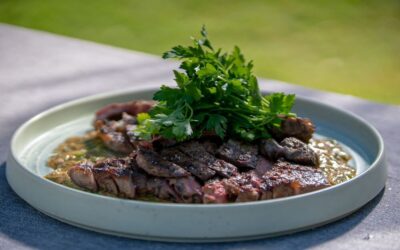 Ingredients: Serves: 2-4 2 x 250g T-bone or Rump steak Sea salt 2 Tbsp Olive oil 2 Tbsp Butter 1 brown onion, diced 2-3 cloves garlic, finely chopped 1 tsp dried chilli flakes 2 tsp dried mixed herbs 40 'twists' cracked black pepper 2 chicken stock cubes, crumbled 2-3...