Kimchi Udon Bokkeum (Spicy Kimchi Noodles)
Sofia Levin
Serves: 2
500g udon noodles
8 rindless shortcut bacon slices (or tofu if the preference is veg), cut into bite-sized pieces
1 ½ cups chopped kimchi
½ cup kimchi juice
2 tbsp gochujang (fermented pepper sauce)
5 tbsp unsalted butter
⅔ cup chicken broth/stock
1 medium onion, finely sliced
2 spring onion stalks, whites and greens thinly sliced
2 eggs
Salt
Sesame seeds to garnish (mixed black and white ideal)
Dried/roasted seaweed to garnish
Heat 2 tbsp butter in a large pan until melted. Add onion and bacon and cook until

the onion starts to turn translucent. Add chopped kimchi and gochujang. Stir occasionally

until kimchi and onion starts to caramelise. Add broth and juice, bring to simmer.

While the above is reducing, cook noodles according to package directions and fry or

soft boil eggs. If using tofu instead of bacon, pan fry separately here.

 

Add noodles to the pan when cooked, along with the remaining butter. Cook until coated

and season to taste.

 

Serve noodles in bowls, garnished with eggs, spring onion, seaweed and sesame

seeds.
Our friends at Wine Selectors suggest pairing this dish with a Pinot Gris.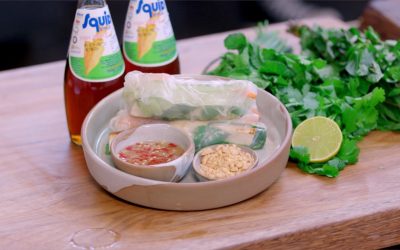 This recipe is brought to you by our friends at Asian InspirationsIngredients:Serves: 8 Prep Time: 10 mins Cook Time: 15 mins Main Ingredients: 1 packet rice paper 150g rice vermicelli noodles 1 bunch coriander 1 bunch Thai basil 1 bunch mint 1 bunch garlic chives 1⁄4...