Kingfish with Fennel, Dill and Mandarin
Mike Reid
200g Fresh King Fish
2 tangerines or mandarins
½ Fennel pickled
Dill, fresh to garnish
Bunch of Dill
275ml Olive oil
Juice 1 tangerine/mandarins and reduce down over a low heat, until ¼ is remaining
Segment the other tangerine
Make your dill oil, by blitzing together with the oil and passing
To make fennel dust. Place cling wrap on top of a plate, with fresh dill and place in the microwave for 2 minutes. Blitz or finely chop.
Slice your sashimi and assemble. Dress with reduced mandarin juice, top with fresh mandarin, pickled pennel & fennel oil, finish with fennel dust.
Our friends at Wine Selectors suggest pairing this dish with a Semillon Sauvignon Blanc.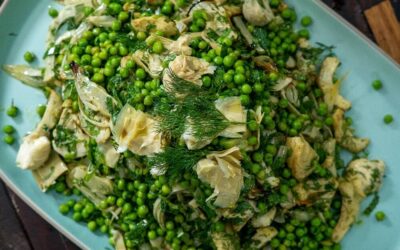 Ingredients: 500g fresh broad beans, in their pods 3–4 small fennel bulbs 250g frozen peas, thawed and rinsed 1 red onion, finely sliced 1 cup dill, finely chopped 1⁄2 bunch mint, finely chopped, plus extra whole leaves to garnish 1⁄2 bunch flat-leaf parsley, finely...