280g caster sugar
2 large eggs
65g flour
30g cocoa powder a pinch of salt
120g of butter melted
1 tbsp vanilla paste icing sugar for dusting
TO SERVE:
vanilla bean ice cream & raspberries
Cream the sugar and eggs in a large bowl
Sift flour, cocoa and salt into another bowl
Fold the dry ingredients into the eggs and sugar
Mix in butter and vanilla
Pour into a grease springform pan that has been coated with cocoa powder
Bake at 180 for 20-25 minutes or until the top has hardened but the center is still soft.
Sprinkle with icing sugar and leave to rest to room temperature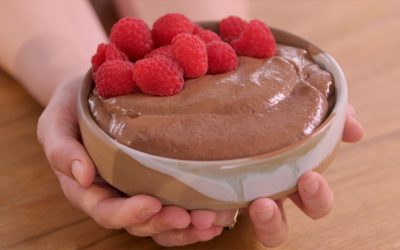 Ingredients: Plant-based milk Chia seeds Cacao powder Maple syrup Vanilla extract or paste Method: Combine all of the ingredients in a high-speed blender and blend until smooth. If you prefer to eat the seeds whole, you can skip the blender and combine the ingredients...