Lancashire Hot Pot
Ben O'Donoghue
Serves 4
1 cup (150g) plain flour
8x 150g lamb neck chops
100ml olive oil
4 onions, thinly sliced
1 large quince peeled and sliced
3 garlic cloves, sliced
2 bay leaves
700g waxy potatoes (such as desiree), peeled, sliced into 1cm rounds
50g unsalted butter, melted
1 tbsp thyme leaves
200ml chicken stock
Gremolata
1 cup flat-leaf parsley, finely chopped
1 garlic clove, crushed
Grated zest of 1 lemon
Preheat the oven to 180°C.
Combine the flour with a good pinch of salt and pepper in a plastic bag. Add the lamb chops and shake the bag for 30 seconds to evenly coat the lamb.
Heat half the oil in a large frypan over medium-high heat. Shake excess flour off the lamb, then cook, in batches, for 2-3 minutes each side until golden. Remove from the pan and set aside.
Wipe the pan clean with a paper towel and place over medium heat. Add the remaining 50ml oil and cook the onions, stirring, for 10-12 minutes until soft and starting to colour. Add garlic and cook for a further 3 minutes or until golden brown.
Place lamb in a flameproof casserole, then top with onion mixture and bay leaves. Then sliced quince.
Toss the sliced potatoes with the melted butter and thyme, and season with salt and pepper. Arrange potatoes over the top of the onions in a circular pattern, overlapping slightly.
Pour the stock over the potatoes, then cover the casserole dish with the lid. Place the dish in the oven and bake for 20 minutes, then reduce oven temperature to 130°C and cook for a further 21/2 hours or until potatoes and meat are tender and the sauce has thickened.
Remove the lid, then switch the oven to the grill function. Grill on high heat for 3 minutes or until the potatoes are golden.
Allow to Rest while you make the gremolata.
Gremolata
For the gremolata, place the parsley, garlic and lemon zest together in a bowl, then stir to combine.
Divide hotpot among bowls, sprinkle with gremolata and serve
Our friends at Wine Selectors suggest pairing this dish with a Ross Hill Pinnacle Series Chardonnay 2016 or Angullong Fossil Hill Tempranillo 2018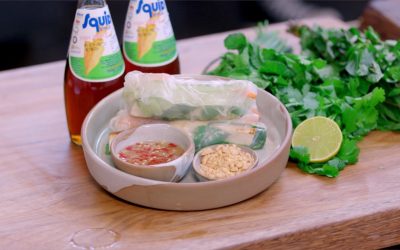 This recipe is brought to you by our friends at Asian InspirationsIngredients:Serves: 8 Prep Time: 10 mins Cook Time: 15 mins Main Ingredients: 1 packet rice paper 150g rice vermicelli noodles 1 bunch coriander 1 bunch Thai basil 1 bunch mint 1 bunch garlic chives 1⁄4...