Lemon and Ricotta Tart
Matt Sinclair
Serves: 8
2 sheets shortcrust pastry
½ cup medjool dates
2 free range eggs
½ cup caster sugar
2-3 tsp lemon zest
250gm fresh ricotta
½ cup thickened cream
2 tbsp plain flour
1 tbsp icing sugar
Remove pastry and allow to thaw slightly before pressing into a lightly greased loose-bottom round tart tin. Preheat the oven to 180C.
Tear apart the dates into small half-bite sized pieces, careful to remove all seeds Scatter them over the base of the pastry.
Using a mixer, beat the eggs, sugar and zest together until pale and thick (approximately 10 minutes).
Add the ricotta, cream and flour and beat lightly until smooth. Pour the ricotta mixture into the tart tin and smooth out evenly. Place into the oven and bake for 1 hour until lightly golden and set.
Remove from the oven and allow to cool on a wire rack in the tin before removing it from the tart tin to cool completely. Dust with icing sugar and serve with dollop cream.
Our friends at Wine Selectors suggest pairing this dish with a Late Harvest Riesling.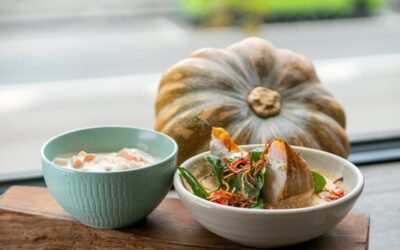 Ingredients: Serves: 2 Ingredients: 2x Wedges of Pumpkin (skin on) 1x can of coconut milk 30ml Soy Sauce (to taste) 1 tbsp of Tom Yum Paste 1 chilli, finely sliced 1 punch of Thai basil 1 tbsp fried shallots Bubur Cha Cha: Kara coconut cream 2litres Pandan leaves 6pcs...