Lemon Curd
Ben O'Donoghue
330ml Lemons juice and zest 1 lemon
8 egg yolks
8 whole eggs
450g unsalted butter cubed
320g caster sugar
Combine the butter, sugar, lemon juice and zest in a pot.
Whisk the eggs and egg yolks together.
Place the pot on to the stove over a medium heat and whisk until it starts to melt. Then whisk in the egg mixture and continue to whisk continuously until the mixture is over 74 degrees. Then continue to whisk until the mixture is thick enough to draw a figure of eight and hold its form.
Remove from the heat and whisk until the curd has cooled.
This can be done over and ice bath to speed the process.
Store in sterilised jars or airtight containers in the fridge.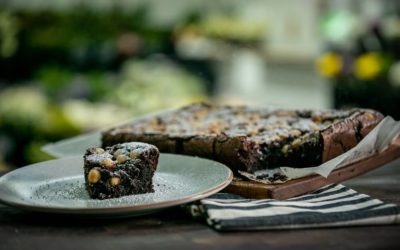 Ingredients: Makes 28 portions 12 eggs 800gm 900gm caster sugar 675gm 68% Madagascar chocolate 675gm-unsalted butter 225gm ground macadamia meal 225gm cocoa powder 300gm macadamia nuts Method: Preheat oven to 150 degrees Grease and line sponge tray with parchment...