Lemongrass and Sake Clams
Khanh Ong
2 birds eye chilis
75ml sake
20g ginger half smashed and half finely chopped
2 lemongrass stalks smashed and 1 tbsp finely chopped
2 tbsp smashed garlic
1kg live clams
2 tbsp coriander leaves
2 tsp thinly sliced kaffir lime leaves
In a wide shallow pot heat chilis, sake, smashed ginger, smashed lemongrass, smashed garlic and 200mls of water to the boil.
add clams and cover to steam for 3 minutes. remove the open clams into a serving bowl every 20-30 seconds.
once all removed pour hot broth over the clams and then scatter over remaining ingredients.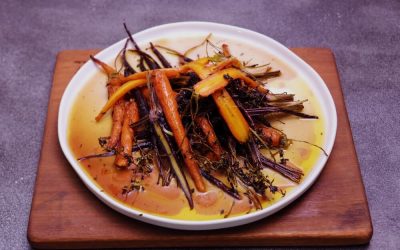 Join Elena Duggan as she creates her Honey Herbed Carrots recipe. Tune in to The Market kitchen each weekday on Channel 10.