½ cup Ensure Neutral powder
1 cup split red lentils, rinsed
2 bay leaves
1 cinnamon stick
1 tbsp extra virgin olive oil
1 onion, diced
2 garlic cloves, crushed
1 tbsp fresh ginger, finely chopped
½ tsp turmeric
1 tsp ground cumin
½ tsp garam masala
½ tsp chilli flakes – optional
Juice from ½ lemon
1 tbsp chopped fresh coriander
Pinch of salt
1tbsp butter
Place lentils, bay leaves and cinnamon in a saucepan with 2½ cups of cold water. Bring to the boil; reduce the heat to simmer, stirring regularly to prevent sticking for 10-12 minutes. Discard cinnamon and bay leaves and set cooked lentils aside.
Heat oil in a frying pan over a medium-high heat. Add the onion, ginger and cook for 2 minutes. Stir in the garlic, spices and chilli flakes and cook for a further minute or until fragrant. Stir in the lemon juice and add salt and mix well.
Add lentils to the pan and combine well. Cook for 2 minutes until heated through. Remove from the heat and stir through Ensure powder, butter and coriander.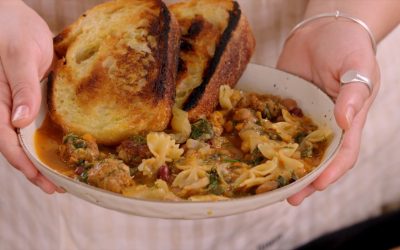 Ingredients: 4 Spicy Italian Sausages Packet of Farfalle Pasta 1 Leek 1 Carrot 1 Onion 2 Garlic 2 cups Shredded Cabbage 1 Chopped Silver Beet 1 400gm Tinned Beans 1 tsp Cumin powder 1 tsp Coriander  powder 1tsp Paprika powder 2 tbsp Tomato Paste Stock of your choice...