Light and Green Soba Noodle Salad
Elena Duggan
150g Edamame, bought frozen, then blanched and refreshed
1 Telegraph cucumber, peeled, deseeded, sliced on an angle
1 packet Soba / Seaweed / Konjac noodles, cooked and refreshed (use what suits your tummy)
1 bunch Asparagus, peeled, stripped or finely sliced in quarters lengthways
1lge Avocado, sliced
1 bunch Shiso/ perilla leaves
3 Nori sheets, strips
Home Pickled Ginger, to taste
25g Sesame Oil
25g Yuzu juice
25g Creamy sesame dressing/sauce (Asian Inspirations)
To Serve
Wasabi Mayonnaise, squeeze to taste (Asian Inspirations)
25g Black and white sesame seeds
Optional to Serve:
Mixed salad greens, tossed through
Steamed chicken breast, sliced
Sashimi of choice, sliced
For the dressing, in a small bowl or jug, combine sesame oil, yuzu, sesame dressing thoroughly and set aside.
Combine all other ingredients in a bowl, toss gently. Dress right before serving and toss through again.
Gluten free – optional based on noodles of choice
Grain free– optional based on noodles of choice
Refined Sugar Free
Sugar Free – Low Fructose
Dairy Free
Paleo Friendly
Vegetarian
Vegan
Pescatarian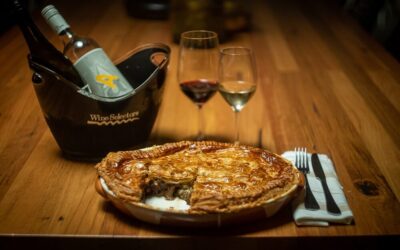 Ingredients: 1kg of chuck, flank, shin or brisket trimmed and cut into 3cm cubes 2 clove of garlic 1 small bunch of thyme 1 tspn of black peppercorns 500ml Guinness or dark ale 8 shallots peeled 1 tbsp vegemite 500gm bought puff pastry 100gm Stilton blue cheese or...