Light and Green Soba Noodle Salad
Elena Duggan
150g Edamame, bought frozen, then blanched and refreshed
1 Telegraph cucumber, peeled, deseeded, sliced on an angle
1 packet Soba / Seaweed / Konjac noodles, cooked and refreshed (use what suits your tummy)
1 bunch Asparagus, peeled, stripped or finely sliced in quarters lengthways
1lge Avocado, sliced
1 bunch Shiso/ perilla leaves
3 Nori sheets, strips
Home Pickled Ginger, to taste
25g Sesame Oil
25g Yuzu juice
25g Creamy sesame dressing/sauce (Asian Inspirations)
To Serve
Wasabi Mayonnaise, squeeze to taste (Asian Inspirations)
25g Black and white sesame seeds
Optional to Serve:
Mixed salad greens, tossed through
Steamed chicken breast, sliced
Sashimi of choice, sliced
For the dressing, in a small bowl or jug, combine sesame oil, yuzu, sesame dressing thoroughly and set aside.
Combine all other ingredients in a bowl, toss gently. Dress right before serving and toss through again.
Gluten free – optional based on noodles of choice
Grain free– optional based on noodles of choice
Refined Sugar Free
Sugar Free – Low Fructose
Dairy Free
Paleo Friendly
Vegetarian
Vegan
Pescatarian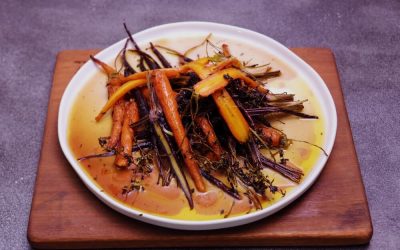 Join Elena Duggan as she creates her Honey Herbed Carrots recipe. Tune in to The Market kitchen each weekday on Channel 10.