Lime and Yoghurt Syrup Cake
Khanh Ong
3 eggs
225g caster sugar
Juice and zest of 3 limes
300g self-raising flour sifted
275g Jalna Greek yoghurt
125ml of grapeseed oil/veg oil (any neutral tasting oil)
Lime Syrup:
3 limes peeled into thick strips
130g caster sugar
75ml lime juice
Beat the eggs and sugar until light and pale in a stand mixer
Add lime juice and zest and beat for a minute
Stir in flour yoghurt and oil until smooth
Pour into a springform line tin and bake at 180 for 45 minutes or until a skewer comes out clean
Set aside to cool.
Lime Syrup:
In a saucepan add all the ingredients.
Simmer for 4-5 minutes until thick
To Serve:
Poke holes in the cake with a skewer
Pour syrup over the top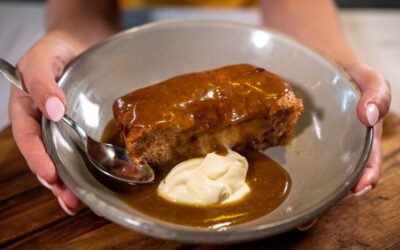 Ingredients: 185 g dates 1 cup water 60g butter 2 eggs 185g self raising flour 185g sugar 1tsp baking powder ½ tsp vanilla paste Butterscotch Sauce: 1 cup cream ¾ cup brown sugar 2 tbsp butter Pinch of salt Method: Bring the dates and water to a boil, then remove from...