Lingine with Figs, Cream and Chilli
Ben O'Donoghue
320gm fresh egg pasta
6 over ripe black figs
4 long red chillies grilled, peeled and deseeded
1/2 bunch of purple basil
1/2 bunch of green sweet basil
1 clove of garlic finely sliced
Pinch of dried chilli
2-3 tablespoons of extra virgin olive oil
1/2 cup of double cream
200gm block of Parmesan cheese to shave
Cracked black pepper
Salt
1 lemon
1. Bring ample amounts of water to the boil and season with salt to cook the pasta
2. While the water boils, remove the stem from the fig and chop into quarters and then into eights.
3. Gently heat the oil in a heavy bottomed pan. Add the garlic and lightly fry until sticky and just golden. Add a pinch of dried chilli and the chopped fig. Gently fry for about 1-2 minutes.
4. Add the cream and lower the heat and just simmer. Season with salt. Pepper and a squeeze of lemon. Add a few of each of the different basil leaves.
5. Drain the pasta of all its water and add to the sauce. Toss to combine and coat the pasta. Correct the seasoning and divide between four bowls.
6. Garnish with strips of the grilled chilli basil leaves and shavings of Parmesan cheese.
Our friends at Wine Selectors suggest pairing this dish with a Wicks Estate Sauvignon Blanc 2019, Tomich Woodside Vineyard Grüner Veltliner 2018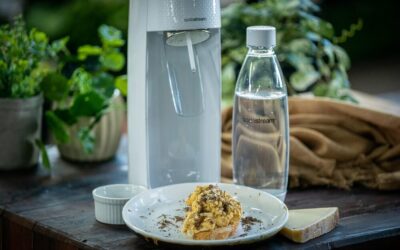 Ingredients: Serves 4 12 eggs, best quality you can afford 150ml sparkling water 2 tablespoons freshly grated parmesan Sea salt and freshly cracked pepper 20g butter 4 thick slices of sourdough, toasted/charred Method: Mix together the eggs, sparkling water, parmesan...