Loukomades
Nicolette Stathopoulos
Loukomade mix
Juice of one orange
Juice of one lemon
Pinch salt
1 tsp caster sugar
2 cups warm water
SR flour, 600g
2L vegetable or canola oil for deep frying
Salted Caramel
220g sugar
165ml cream
95g butter
1/2tsp vanilla bean
Pinch of flaked salt, to taste
Cinnamon sugar
1 cup caster sugar
1 tbsp cinnamon
Garnish
Fresh honey, best quality you can find, I like to use the honey my family makes from our bee hives
Start by making the loukomade dough, combine together the lemon, orange, salt, sugar and water in a bowl
Add the flour to the wet ingredients and stir with a whisk until a thick but wet dough consistency. Let the dough sit and rest covered in cling wrap for about 1-2 hours
While the dough is sitting make the cinnamon sugar by combining the sugar and cinnamon in a bowl and stir to combine
To make the salted caramel it is important to measure out all your ingredients first so you have everything ready. Heat up the cream and the vanilla in a microwave until warm, and set aside.
Grab a pan, preferably NOT a non-stick pan that is medium size , and pour 2 tablespoons of the sugar into the pan. Place the pan onto a low heat on the stove and begin to melt the sugar. Once all the sugar has slowly melted, add another tablespoon. Continue to do this until all the sugar has melted.
Allow the sugar to brown slightly, once you can clearly see the bottom of the pan add in the cream and stir quickly. It is important to use a pan that is not too small as the mixture at this stage likes to froth up.
Now that the sugar and cream have combined, take the mixture off the stove and carefully stir in the butter, followed by the salt and set aside. Add salt to your preference, I love my salted caramel very salty.
Now its ready to start warming your oil. Place the oil into a large enough pot and heat up for frying. To get the right temperature I like to place a little spoonful of the mixture into the oil, if it sizzles nicely its ready. If the mixture gets too brown before the inside is cooked, turn the heat down.
Have some tongs ready beside the stove, as well as the dough mixture with some spoons, and your cinnamon sugar.
Place heaped tablespoons of the dough into the oil and fry until golden brown and cooked in the center.
As soon as the dough is cooked remove the doughnuts from the oil and toss straight into the cinnamon sugar
Repeat this process until all the doughnuts are cooked.
To serve drizzle generously in the salted caramel and honey, enjoy, these are addictive so be careful.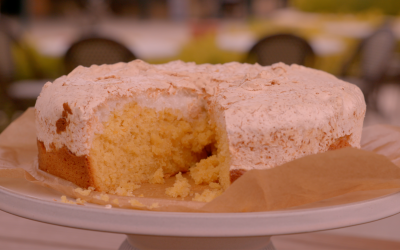 Ingredients:BASE 3 Egg Yolks 1/2 cup Caster Sugar 125g soft butter 2 cups Self-Raising flour 1 cup orange juice Vanilla   TOPPING 3 egg whites 1/2 cup caster sugar 1 cup desiccated coconut Method: Beat butter and sugar until creamy. Add yolks and vanilla. Fold in the...