Lupin Hummus
Simone Austin
1 ½ cups cooked Lupin flakes
2 cloves garlic freshly crushed/chopped
2 tablespoons tahini paste
3 -4 scoops of Glucerna Vanilla powder
2 tablespoons white wine vinegar
2 tablespoons of extra virgin olive oil
2 teaspoons of lemon juice
1 tsp lemon zest
1 teaspoon salt
Add ¾ cup dry lupin flakes to 3 cups hot water and bring to the boil. Boil for 3 -4 minutes and strain.
Place 1 ½ cups of cooked lupin flakes, into a food processor along with all other ingredients apart from the Glucerna powder.
In a cup mix the Glucerna powder with a little water to make a runny paste and then add to the other ingredients.
Blend all ingredients until smooth.
Add a little extra water if you feel the dip is too think. Drizzle with a little more extra virgin olive oil if desired.
Serve with sliced vegetables for dipping.
For more details on Glucerna, go to glucerna.com.au
Lupins are a high protein, high fibre legume, that are very low in carbohydrate and fat. They make a good substitute for chickpeas in this Lupin hummus like dip.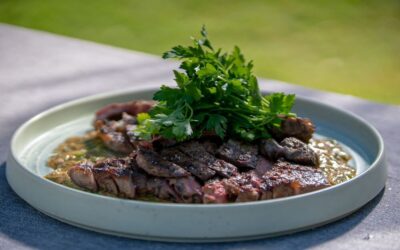 Ingredients: Serves: 2-4 2 x 250g T-bone or Rump steak Sea salt 2 Tbsp Olive oil 2 Tbsp Butter 1 brown onion, diced 2-3 cloves garlic, finely chopped 1 tsp dried chilli flakes 2 tsp dried mixed herbs 40 'twists' cracked black pepper 2 chicken stock cubes, crumbled 2-3...