Mac and Cheese Paffle
Mike Reid
600ml Milk whole
125ml Thick cream
50g plain flour
50g butter salted
75g Gruyere cheese
100g Taleggio
50g mozzarella
300g Macaroni pasta
Pastry:
225g Plain Flour
100g Unsalted Butter, diced
Pinch of Salt
Mac and Cheese:
Cook the macaroni in a large saucepan of salted, boiling water according to the packet instructions.
Meanwhile, in a separate saucepan, heat the butter until melted, then whisk in the flour until smooth and cook for 1-2 minutes, or until pale golden-brown.
Whisk in the milk a little at a time, waiting until the mixture has thickened after each addition before adding any more and whisking continually. After all of the milk has been added to the mixture, you should have a smooth sauce finish with the thick cream.
Add all of the cheese (except mozzarella) to the sauce and heat gently, stirring all the time, until it has melted. Season, to taste, with salt, freshly ground black pepper.
Drain the cooked pasta and tip it into the pan containing the cheese sauce. Stir well to coat the pasta. Set aside.
Pastry:
For the pasty, sift the flour into a large bowl, add the butter and rub in with your fingertips until the mixture resembles fine breadcrumbs
Stir in the salt, then add 2-3 tbsp water and mix to a firm dough. Knead the dough briefly and gently on a floured surface. Wrap in cling film and chill while the filling is cooking
Heat your jaffel (sandwich maker) machine
Roll out 2 sheets of your pastry just enough to cover the jaffel machine. Spray the machine with cooking oil before laying over the first sheet, then add in your mac & chz filling before covering with another sheet
Now simply toast and enjoy
Our friends at Wine Selectors suggest pairing this dish with a Merlot.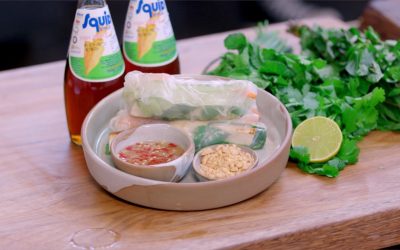 This recipe is brought to you by our friends at Asian InspirationsIngredients:Serves: 8 Prep Time: 10 mins Cook Time: 15 mins Main Ingredients: 1 packet rice paper 150g rice vermicelli noodles 1 bunch coriander 1 bunch Thai basil 1 bunch mint 1 bunch garlic chives 1⁄4...