Mango Lassi Parfait
Elena Duggan
1kg Jalna Yoghurt (natural, Greek or bio-dynamic), chilled
400g Mango flesh + 100g Mango flesh, 5mm cubes, chilled
150g Milk, chilled
75g Honey
½ tsp Cardamom (or to taste)
25g orange blossom water (optional)
To Serve
Mango syrup – 100g Mango blitzed with 50g water, 25g honey, strain if necessary
Line a loaf tin or prepare an ice cream container.
In a high speed food processor, blend, yoghurt, 400g mango, milk, honey and cardamom until thoroughly combined, smooth and frothy.
Scatter cubed mango along the bottom of the lined tin before pouring over the lassi mixture. Cover in plastic wrap or a lid if available. Freeze until set all the way through could be between 3-12hours – prepare ahead of time if needed for a certain time.
Serve in slices with syrup.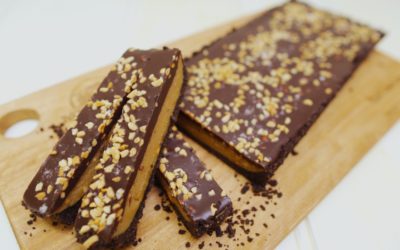 Ingredients: Base2 packets of Oreos¼ cup + 1 tbsp of melted butter1 pinch of saltFilling½ cup butter meltedCup brown sugar1 can condensed milk¼ cup of cream1 tsp salt1 cup crunchy peanut butter (or smooth)Topping150g milk chocolate chips50ml cream2 tbsp smooth peanut...