Masala Lamb Shanks
Ben O'Donoghue
4 lamb shanks
300ml Massel Chicken Stock
Ground turmeric 1 tbsp
Root ginger 3cm piece, grated garlic 3 cloves, crushed sunflower oil
Bay leaf 1
Cinnamon stick 1
Cloves 5
Cardamom pods 6,
Bashed onions 2, sliced
Chopped tomatoes 400g tin
Ground cumin 2 tsp
Ground coriander 3tsp
Green chillies 2, halved
Coriander a large handful
Curry Paste
Desiccated coconut 50g
Coriander seeds 3 tbsp poppy seeds 5 tbsp
Fennel seeds 2 tbsp
Black pepper 1 tbsp
Red chillies 5
If you have a pressure cooker it will speed up the initial cooking of the lamb shanks – they should be done in 20 minutes.
This recipe will also work well with a whole or half leg of lamb, you'll just need to cook it for a bit longer.
Curries improve their flavour over 24 hours or so make this one day and serve it the next.
Put the lamb in a large pan with the turmeric, ginger, garlic and some salt. Add enough stock to cover and simmer gently for 11/2 hours or until tender.
Meanwhile, grind the curry paste ingredients together in a spice grinder or pestle and mortar. Heat 2 tbsp oil in a deep frying pan and add the bay leaf, cinnamon, cloves and cardamom. Fry until aromatic.
Add the onion and fry until it starts to soften. Add the tomato and cook for 5 minutes, then add the cumin, coriander and green chillies and cook for 3 minutes.
Add the curry paste. Cook for 2 minutes then add the lamb shanks, some salt and enough of the cooking water to come halfway up the shanks. Cook for 20 minutes. Turn the shanks over several times, adding more water if the sauce gets too thick. Sprinkle with coriander.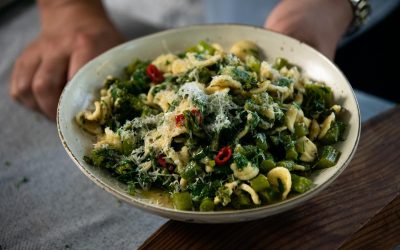 This recipe is brought to you with the help of our friends at Perfection Fresh  Ingredients: 500g orecchiette pasta Table salt for pasta water 2 heads broccolini, cut into small pieces, use stalk as well 4 birds eye chilli, sliced finely 5 cloves garlic, chopped 4...