Masterstock Braised Drumsticks
Matt Sinclair
Serves: 4
2 Litre Masterstock
2 kg Chicken Drumsticks
6 boiled eggs (boiled for 6-7 minutes), peeled
4 spring onions, finely chopped
½ cup picked Coriander
2 Tbsp Sesame Seeds
Steamed Jasmine rice to serve
Place the stock and drumsticks in a heavy based pan over a medium heat. Bring to a simmer and cook for about 1.5 hours. Remove from the heat and add the eggs to the masterstock to flavour for about 20 minutes.
Serve with steamed rice and garnish generously with spring onion, fresh coriander and sesame seeds.
Our friends at Wine Selectors suggest pairing this dish with a Pinot Noir.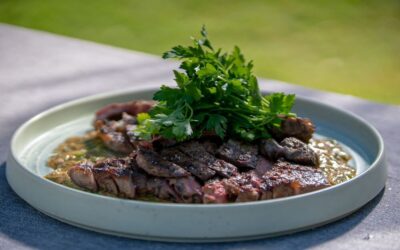 Ingredients: Serves: 2-4 2 x 250g T-bone or Rump steak Sea salt 2 Tbsp Olive oil 2 Tbsp Butter 1 brown onion, diced 2-3 cloves garlic, finely chopped 1 tsp dried chilli flakes 2 tsp dried mixed herbs 40 'twists' cracked black pepper 2 chicken stock cubes, crumbled 2-3...