Matcha Chiffon Cake with White Chocolate Ganache
Khanh Ong
1 tbsp matcha powder
1 tsp of baking powder
2⁄3 cups of cake flour
3 large eggs separated
1⁄2 cup of caster sugar
3 tbsp veg oil
4 tbsp water
White Chocolate Ganache:
1 cup of thicken cream
150g white chocolate
Garnish:
Sift the matcha powder, baking powder and cake flour together in a large bowl 2 – 3 times
Whip egg whites until soft peaks form then slowly add in 2 tbsp of caster sugar until stiff peaks form
In a large bowl beat the yolks and remaining sugar until pale, then add oil, water and continue beating until combined.
Fold flour mixture into the yolk mixture
Slowly fold in the egg whites 1⁄3 at a time do not over mix.
Pour the matcha batter into pre prepped bundt pan.
Bake for 25-30 minutes at 160C
Let the cake cool upside down and then gently remove from pan.
White Chocolate Ganache:
Heat 1⁄2 cream to a simmer then add chocolate until melted.
Remove from heat and then add in leftover cream to bring the temperature down
Place in a fridge for at least 30 mins to cool
Whip until soft peaks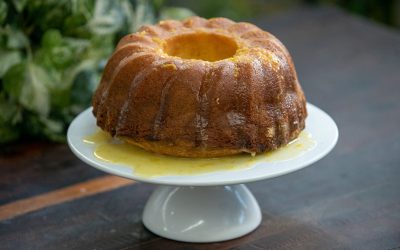 Ingredients: 300 g dairy-free margarine 300 g gluten-free plain flour , plus extra for dusting 300 g golden caster sugar 4 large free-range eggs 3 lemons 2 oranges 2 teaspoons gluten-free baking powder ½ teaspoon xanthan gum 100 g icing sugar Method: Preheat the oven...