Matcha Raspberry Slice
Khanh Ong
Crust
80g raw walnuts
1 cup almond flour
5 dates
1⁄4 cup coconut oil
1⁄2 tsp salt
Matcha and Raspberry filling
2 cups of raw cashews, soaked in water overnight and drained
1⁄2 cup of canned TCC coconut milk
1⁄3 cup of coconut oil melted
1⁄2 cup rice malt syrup
2 tbsp lemon juice
2 tsp vanilla bean paste
a pinch of salt
1 tbsp matcha powder
1⁄3 cup of freeze dried raspberries
To Serve:
Freeze dried raspberries
Matcha powder
You'll need to start this recipe the night before, as you'll need to soak the cashews overnight.
Grease an 8 inch square pan and set aside.
To make the crust, add all ingredients into a processor and blitz until it becomes a sticky dough but with still pieces of walnut (if it becomes like a nut butter you've gone too far). Press the dough into the pan evenly and set aside
In a food processor combine all filling ingredients besides matcha powder and freeze dried raspberries and blitz till smooth and creamy. Remove 1⁄3 of the mixture, set aside and add the matcha powder to the processor then blitz until combined. Place the matcha filling evenly into the pan and then set in the freezer.
Place remaining 1⁄3 of the mixture into a food processor along with freeze dried raspberries and blitz till combined. Pour raspberry mixture over the top of the matcha filling then place in the freezer until completely frozen about 3 hours.
Remove and slice. Garish with raspberries and matcha powder.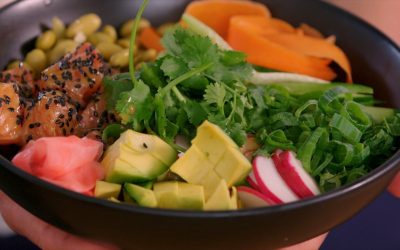 This recipe is brought to you by our friends at Healthy Life.Ingredients: 2 salmon fillets, skin off 1 cup edamame beans, frozen and blanched  1 Lebanese cucumber, sliced thinly 1 carrot, ribboned 1 avocado, diced 1/2 bunch spring onions, sliced 1 cup cooked brown...