Meatball Sub
Ben O'Donoghue
1 cup (70g) fresh breadcrumbs
100ml milk
500g lean pork mince
1 onion, grated
1/4 cup (60ml) olive oil
2 garlic cloves, finely chopped
400g can Ardmona Diced Tomatoes
2 fresh jalapeño chillies, 1 whole, 1 thinly sliced
1 cinnamon quill
4 soft torpedo-shaped bread rolls
100g baby spinach leaves
1 avocado, thickly sliced
50g gruyere cheese, thickly sliced
Fries, to serve
Soak the breadcrumbs in the milk for 5 minutes, then combine with the pork mince and onion. Season and use damp hands to roll the mixture into 24 walnut-sized meatballs. Place on a tray, cover and refrigerate for 10-15 minutes.
Preheat the oven to 180°C.
Heat 2 tablespoons oil in a large ovenproof frypan over medium-high heat. Cook the meatballs in the frypan for 6-8 minutes, turning, until browned. Remove from the pan and set aside.
Heat remaining 1 tablespoon oil in the frypan and cook the garlic for 30 seconds, stirring, until fragrant. Add the tomato passata, one whole jalapeño, cinnamon and meatballs to the pan and stir to combine. Transfer to the oven and cook for 15 minutes or until the sauce is bubbling and thickened.
Preheat the grill to medium-high. Make a deep slit in the bread rolls lengthways, then toast under the grill for 1 minute or until golden-brown.
Tuck some spinach leaves, avocado slices and 6 meatballs into each of the bread rolls. Spoon over a little tomato sauce, then top with gruyere cheese and jalapeño slices. Grill for 1-2 minutes or until the cheese is melted.
Serve immediately with fries.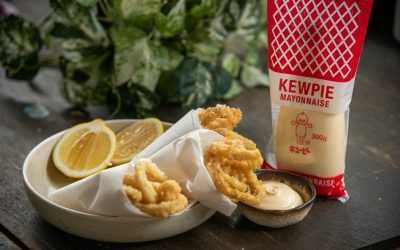 Ingredients: 1 tbsp sea salt flakes 1 tbsp cracked black pepper 8 cleaned squid tubes, thinly sliced Vegetable oil, for deep-frying 1 cup self-raising flour ½ cup mayonnaise Lemon wedges, to serve Method: Place the salt and pepper in a large bowl and mix to combine....