Minty Pea Falafels with Tahini Yoghurt Sauce
Sofia Levin
Falafels
250g peas (ideally fresh, but frozen okay)
400g cooked chickpeas (canned okay)
1 Spanish onion (half finely chopped, the other half finely sliced)
2 large garlic cloves, minced
1/4 cup tahini
1/2 bunch mint, roughly chopped
1/2 bunch coriander, roughly chopped
1/2 bunch flat leaf parsley, roughly chopped
1/2 cup plain flour
1/2 tsp bicarb
Zest of 1 lemon
EVOO and water on hand for thinning
Sauce
200g full fat Greek yoghurt
120g tahini
1 clove garlic, minced
Juice from ½ lemon
1 tsp salt
½ tsp ground cumin
1/2 tsp ground coriander
1 cup finely chopped herbs of choice (mint and dill)
EVOO or water on hand for thinning
Salt to taste
To Serve
Flat bread
Lemon
Spanish onion
Cherry tomato
Lettuce
Extra herbs
Preheat the oven to 180 degrees. Add all falafel ball ingredients to a food processor (except for the sliced half onion) and pulse to combine. Check for consistency and seasoning. Add salt and EVOO if needed.
Form the mixture into tablespoon-sized balls or ovals using your hands and set aside on a tray or plate.
Brown falafels in a generously oiled pan on both sides, then transfer to a baking tray and cook until warm, 8 to 10 mins.
While falafels are warming, make the dressing. Blitz all the ingredients in a small food processor or by hand until smooth. Adjust seasoning to taste.
Serve falafels on warmed flatbread with fresh lettuce, cherry tomatoes, lots of fresh herbs, finely sliced spanish onion, a generous drizzle of tahini sauce and lemon wedges.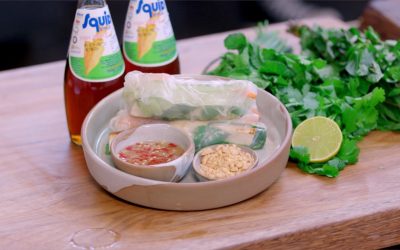 This recipe is brought to you by our friends at Asian InspirationsIngredients:Serves: 8 Prep Time: 10 mins Cook Time: 15 mins Main Ingredients: 1 packet rice paper 150g rice vermicelli noodles 1 bunch coriander 1 bunch Thai basil 1 bunch mint 1 bunch garlic chives 1⁄4...