Serves 1
2x scoops Ensure vanilla powder
¼ cup plain flour
1 tsp sugar
¼ tsp baking powder
1 tbsp melted butter
1 tbsp peanut butter
½ tsp vanilla extract
3 tbsp milk
Place Ensure, flour, sugar and baking powder in a mug and gently mix.
Create a well in the mug and slowly add the remaining ingredients. Combine well.
Cook on high for 70-90 seconds in microwave (depending on the power of microwave).
Allow to cool for one minute before serving.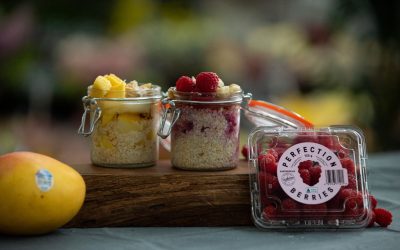 Can also be made with mangos.  Ingredients: 100g Raspberries, frozen (we use Raspberries from Perfection Fresh) 150ml Water 60g Rolled Oats  1 Tbsp Honey, organic  1 Tsp Peanut Butter Roasted nuts to garnish and fresh raspberries  Method: Mix the oats, water and...