Nasi Goreng Fried Rice
Karen Chan
1 tbsp Yeo's Sambal Oeleck
20g Jeeny's Roasted Belachan (shrimp paste)
2 tbsp oil
200g chicken fillet, diced
100g prawns, shelled and deveined
200g white cabbage, julienned
2 stalks spring onions, chopped
4 cups cold cooked rice
1½ tbsp ABC Sweet Soy Sauce Kecap Manis
2 tsp Lee Kum Kee Premium Soy Sauce
Dragon Phoenix Fried Shallots, for garnish
Lime wedges, for garnish
4 sunny-side up eggs, to serve
ABC Extra Hot Chilli Sauce, to serve
Blend Yeo's Sambal Oeleck and belachan into a paste.
Heat oil in a large pan or wok over high heat and stir-fry the paste until fragrant, about 2 mins.
Add chicken and stir-fry until almost cooked. Add prawns and stir well for another 5 mins or until prawns are cooked.
Add cabbage and spring onions, stir-fry until softened. Stir in rice, ABC Sweet Soy Sauce Kecap Manis and Lee Kum Kee Premium Soy Sauce, mixing well for 2 mins.
Garnish with fried shallots and lime wedges. Serve with ABC Extra Hot Chilli Sauce and sunny-side up eggs.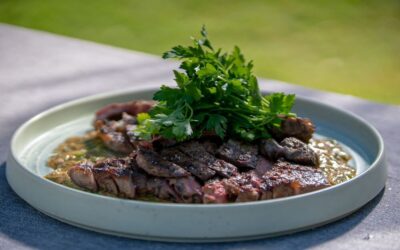 Ingredients: Serves: 2-4 2 x 250g T-bone or Rump steak Sea salt 2 Tbsp Olive oil 2 Tbsp Butter 1 brown onion, diced 2-3 cloves garlic, finely chopped 1 tsp dried chilli flakes 2 tsp dried mixed herbs 40 'twists' cracked black pepper 2 chicken stock cubes, crumbled 2-3...