Naughty Crispy Potatoes
Khanh Ong
1 kg baby red potatoes skin on
salt
2 bulbs of garlic
1⁄4 cup EVOO
1⁄2 cup of grated parmesan
150g of rasher bacon diced
To Serve (Garnish):
150g sour cream & 1 tbsp chopped chives
Par boil the potatoes in a pot with salt
Place the potatoes on a heavy bottom baking tray and crush with a potato masher lightly
Slice the top off the garlic and break up in the potatoes
Cover potatoes and garlic with EVOO and a good sprinkling of salt
Place in an oven for 200C for 35-45 minutes or until crispy
5 minutes before potatoes are done cook bacon for 3-5 minutes until crispy
Top with parmesan and cooked bacon and place back in the oven on grill for 3-5 minutes until parmesan is melted.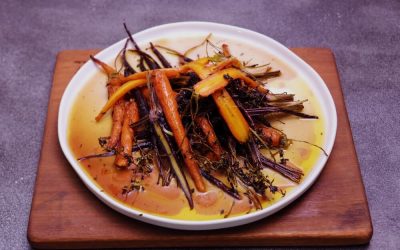 Join Elena Duggan as she creates her Honey Herbed Carrots recipe. Tune in to The Market kitchen each weekday on Channel 10.