No fuss Lamb Stew
Elena Duggan
1kg Lamb Offcuts, pieces with bones are extra tasty
250g Onions, diced
250g Carrots, diced
250g Celery, diced
500g Potatoes
375g French lentils (1 bag)
1 head Garlic, cloves only
100g Anchovies, in oil
4 Bay leaves
10 Black peppercorns
750ml White wine
1L Massel Liquid Beef stock
Place all ingredients in a slow cooker on low for 8-10 hours.
For thicker gravy, carefully strain solids ensuring not too much break up of vegetables and set aside, reserve liquid.
Place liquid and approx. ½ cup of stewed vegetables in a small saucepan, simmer over medium low for up to 20 minutes or until reduced by approximately half
Using a stick blender, blitz to a smooth gravy consistency and cover stewed meat and vegetables before serving.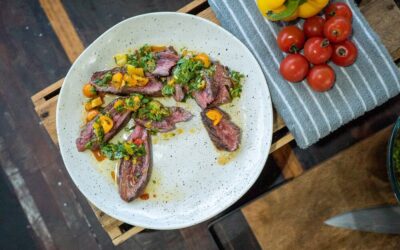 Ingredients: Serves: 4 800g Hanger Steak Sea Salt 1 small yellow pepper, seeds removed, roughly chopped 6 Yellow baby Tomatoes 1 small red chilli, seeds removed ½ tsp dried flaked chillies 2 Garlic cloves, peeled 20g fresh parsley, including any tender stalks 10g each...