No fuss Lamb Stew
Elena Duggan
1kg Lamb Offcuts, pieces with bones are extra tasty
250g Onions, diced
250g Carrots, diced
250g Celery, diced
500g Potatoes
375g French lentils (1 bag)
1 head Garlic, cloves only
100g Anchovies, in oil
4 Bay leaves
10 Black peppercorns
750ml White wine
1L Massel Liquid Beef stock
Place all ingredients in a slow cooker on low for 8-10 hours.
For thicker gravy, carefully strain solids ensuring not too much break up of vegetables and set aside, reserve liquid.
Place liquid and approx. ½ cup of stewed vegetables in a small saucepan, simmer over medium low for up to 20 minutes or until reduced by approximately half
Using a stick blender, blitz to a smooth gravy consistency and cover stewed meat and vegetables before serving.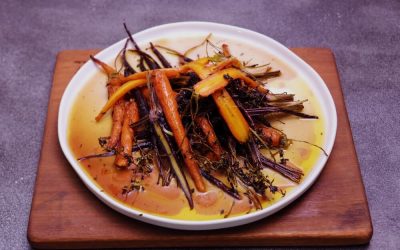 Join Elena Duggan as she creates her Honey Herbed Carrots recipe. Tune in to The Market kitchen each weekday on Channel 10.