Olive and Ricotta Puffs
Khanh Ong
100g chopped pitted kalamata olives
50g chopped pitted green sicilian olives
2 sheets of puff pastry thawed
80g ricotta
Combine olives and gently press a handful of olives into the pastry
Cut each pastry sheet into 4 equal squares, then flip over, pushing down to secure the olives.
Mix the remaining olives with ricotta then spoon into the centre of each square leaving a 1 cm border.
Fold one corner of each square to the other then gently seal the edges with a fork.
Bake in the oven at 200C for 15-20 minutes until golden and puffed.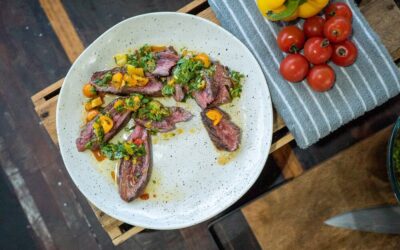 Ingredients: Serves: 4 800g Hanger Steak Sea Salt 1 small yellow pepper, seeds removed, roughly chopped 6 Yellow baby Tomatoes 1 small red chilli, seeds removed ½ tsp dried flaked chillies 2 Garlic cloves, peeled 20g fresh parsley, including any tender stalks 10g each...