Orange and Chia Seed Bircher Muesli
Simone Austin
Serves: 2
1 cup rolled oats
4 scoops Glucerna powder
2 tablespoons chia seeds
1 orange squeezed to make ½ cup freshly squeezed orange juice and pulp
1 teaspoon orange rind, finely grated
¾ cup natural yoghurt
½  teaspoon cinnamon
1 green apple, grated
¼ cup slivered almonds
¼ cup chopped apricots or other dried fruit
In a mixing bowl mix the Glucerna powder into the yoghurt
Grate enough orange peel to make 1 teaspoon of rind
Squeeze the orange to make ½ cup juice and collect the pulp without the seeds
Add this to the Glucerna mix, then add in all the other ingredients and mix until combined.
You can leave the mixture to soften in the fridge overnight or serve immediately with an extra sprinkle of cinnamon.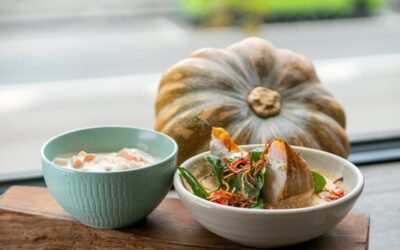 Ingredients: Serves: 2 Ingredients: 2x Wedges of Pumpkin (skin on) 1x can of coconut milk 30ml Soy Sauce (to taste) 1 tbsp of Tom Yum Paste 1 chilli, finely sliced 1 punch of Thai basil 1 tbsp fried shallots Bubur Cha Cha: Kara coconut cream 2litres Pandan leaves 6pcs...